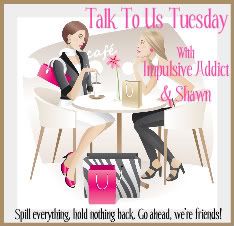 So, Hey, it has been a couple of weeks, sorry about that...I have been away! Twice, in the same week...To Texas...Both trips for my advocacy work with Breast cancer, but for two different organizations...
Oh, that button up there? That is a new meme I ran across on a friends blog...I like it...it is PINK...so...HEHE...
You kind of just talk and talk about whatever...perfect, right? If you want to join in, just click on the pretty square!
So anyway, I attended the Komen Leadership Conference the end of last week. I had a wonderful time with an amazing group of women. Two of them actually won very special awards given out by Nancy Brinker herself!
The other trip was for the TBCRC (Translational Breast Cancer Research Consortium) Also with an awesome group of women!
during that time away I was given an award for this little pink blog so I am off to accept same...