Hi There, I am taking part in my first blog hop! It is titled Meet me on Monday and is hosted by Never Growing Old: bloggers over 40...Her button is on the right...
So first I have to answer some questions so we will all get to know each other on Monday...Then I will show you the list of other blogger participating...they should show as live links...if I have done this correctly...soooo...here goes...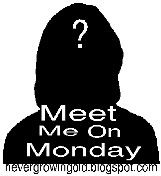 Questions:
1. Do you have any New Year's resolutions?
Well, not exactly, I know how I want to live my life so I will try to concentrate on that. This is part of it.
2. What food item are you craving right now?
Nothing really...
3. When is your birthday? November 26! I am a Thanksgiving baby!
4. What were you doing an hour ago? Taking a shower!
5. Last thing you cooked? Hmmm, I have to say, sausage and cheese...I am not known as a domestic diva...my husband does mist of the cooking around here.
OK, thanks for stopping by. Lets see if I can get the links in here...lol...
Stay Pink!