As Java over at Never Growing Old says:Blogging is a funny thing...we tell our most intimate thoughts for all to read and yet most of the time I find myself sitting and wondering, "who is this person!?" I know them...but yet I
don't
know them! I want to know who the person is behind all those words so I thought of a great way for all of us to "meet" each other!
Every Sunday I will post five
get to know you
questions that you can copy and paste into your own Monday post and we can all learn a little more about each and every one of us!!
"Its a great way to to meet new friends and for others to get to know me better....one Monday at a time!!!"
....as quoted by
the Chacogirl!!
I will make this SIMPLE and FUN!!!
I will add a linky so we can follow who participates and get to know them better!! Be sure to link the POST and not just your whole blog!
Sooo Here goes!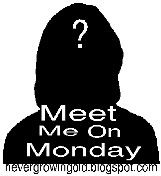 Questions:
1. Have you (only you..not a group) ever won first place in anything?
Hmmm, well I have won things, like awards just for me...but I don't think you can say they are first place...My Grandmother gave me her first place crocheted table cloth from the fair and the ribbon and trophy she got eith it. Does that count?
2. Are your toes always painted (sorry guys...this question for girls only)?
No
3. What color eyes do you have?
Mine are sometimes blue and sometimes green...but while I was undergoing chemotherapy, they sort of lost their color...
4. Look to your left....what do you see?I think I will just show you
5. Soft cookies or crunchy cookies?
soft, I think...
OK so join in !! and Stay Pink!!