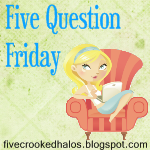 Rules for Five Question Friday
: Copy and paste the following questions to your blog post, answer them, then watch for the
linky
to appear tomorrow morning and link up!
1. H
ave you ever forgotten your child in a store or at school?
You know, I really don't think so...I have forgot picture day once...because I was having surgery...but I can't remember ever forgetting her...
2.
Where did you go on your very first date? (Like...first first, not first with your spouse or current significant other!)
I went to the movies...I can't remember what we saw though...He is a current face book friend though...lol...
3.
What's your "silly" fear?
(We're not talking water and heights.)
Mold...and the eyes on potatoes...
4.
Confrontation: do you cause it, deal with is as it comes, or run far far away?
Maybe a little of the first two...but not usually the third...
5.
Wood floors or carpet?
I like wood floors with rugs on them with the wood showing ...
Stay Pink!