OK, So Here It is! The Big Reveal!! Scroll Down and See if you were Right!! But before you do...I have to tell you that there was some truth to all but one...Here goes!






The Memetastic One!! That's Me!!
See! It says so here!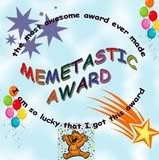 Marvi Marti Over at
The musings of Marvi Marti
gave me this fun award!
There are just a few things I have to do that go along with accepting it...First of all, thanks so much Marti, for thinking of me. I hope I can live up to this...I sure will have fun trying!
MEMETASTIC!!!
As a condition of my acceptance of this award I have to demonstrate my supurb skills by writing five facts about myself. Four of these 'facts' have to be
ficticious deceptions
enhanced realities (some grain of truth but a lot of enhancements!). But somewhere among the

lies

fibs

fabrications

falsehoods

AHEM *cough*cough* ::crossing fingers behind back:: embellishments, will be one solid truth.
The next part of this acceptance is that I have to pass this onto five other bloggers.
SO feel free to comment and let me know which fact is NOT embellished and is in fact, 100% true! I'll post answers this weekend!
TRUE OR
GREATLY EMBELISHED
FALSE?
( I will first confess to borrowing the above, very cute, paragraph from Marvi Marti)
1.T! This is sooo true!! OK, this is an easy one...as any of you who are regulars to my blog must know, I am a big, big fan of ...these TV shows...NCIS, Bones, Fringe...I will not miss NCIS!! Ever!
2.

F!

All of this is true except for the fact that Bailey is an American Eskimo puppy!

We just obtained the most
gorgeous puppy in the world a little over a week ago, he is a real cutie and his name is Bailey...we looked for him for weeks...he was a mush anticipated addition to our family as we have never had a pet before!
There is much laughter around here as we watch his antics...he is s
Samoyed
!
3.

F! My dream was to become an
archeologist
, but I never did and did not study it...my parents said too much dirt for me and I never studied it for real in school. They also said there was no money in it... I do however read a lot of books with a concentration in that area, and that is a regret...

In my younger years I could often be found digging around in the dirt...not that I like to be dirty or buggy, but I am fascinated with history... ancient history to be exact...my true love is archeology. At one point, that was my course of study. Until I got sidetrack by the making babies thing, that is...
4.

F! I do, however, wish it was true!

I am typing this on my brand new Ipad!!!!!! What fun!
5.

F! All of this is true except the part where my husband and I will be joining them...Yes, that's right, my parents will be taking the same cruise as my brother and his wife and did, indeed spring this on them during the wedding...

We attended the wedding of my nephew and my new
niece
-in-law last weekend...at the reception my Mom and Dad surprised the parents of the groom...my brother and sister in law with the news that they had booked a room on the same cruise ship, same cruise that they are on...lol...you should have seen their daughter in law's face...lol...well, I can't wait to see all of their faces when Kirke and I show up!!! I am really excited about the whole thing for more than a few reasons...number one s the obvious one, but then there is the other one...the fact that I have never been on a cruise
before
!!
So, there you have it...the real story...and nothing but the real story... I thought about adding a donation button for an Ipad but...